This report looks at how displaced women finding refuge inside the Abagena Internally Displaced Persons Camp, (IDP) in Makurdi, Benue State survive by working on farmlands.
In 2018, Doose Aodohemba, 25 watched as her 17-month-old baby Doowese, was killed when suspected criminal herdsmen attacked Umenge, one of the villages in Guma Local Government in Benue State.
It was a day after New Year's Day in January. While Doose and her family slept, they heard deafening gunshots and people shouting and scampering for safety.  Quickly, she grabbed one of her children and her husband picked up a few of their clothes and they ran out of their house, leaving Doowese.
"I thought my husband already carried  Doowese," Aodohemba said.  "When we ran a distance and did not see him, we quickly came back but saw the attackers burning our house".
From a distance, she watched them kill her child.
In the aftermath of the January coordinated attack on Guman and Logo LG, at least 80 people were killed while several others were injured. Residents fled their ancestral homes.  The state held a mass burial for victims of the attack.
All through that night, Doose, her husband and their remaining child trekked till they got to Makurdi, the Benue State capital, where they slept and the next morning, they came to Abagena, one of the official camps for internally displaced persons in the State.
Since then, Doose- like others who fled their homes- has not gone back for fear of being attacked. She has lost everything, her child. Her farm. Her home. Whenever she remembers his death and feels devastated, her husband-Aodohemba Tyokaa- tries to console her.
She also lost her husband's brother, Abaa Tyokaa who was staying together with them. According to her, he had hidden himself when the herdsmen attacked the community, hoping that the dust will settle the new morning so he can carry some of their property.
"Sadly, they found him and killed him, "she said.
Benue, epicentre of conflict  
The age-long conflict between farmers and Fulani herders in Nigeria is reported to be most disastrous in Benue, where the Fulani militia are said to have attacked at least 303 times since 2005, killing over 2539 people which according to the Armed Conflict Location & Event Data Project (ACLED) is nearly one-third of all the reported killings by the herdsmen in the country.
Due to frequent clashes between farmers and pastoralists, the Benue state government passed a  law banning open grazing of cattle in late 2017. The Open Grazing Prohibition and Ranches Establishment Law required livestock owners to buy land and establish ranches, prohibiting the open movement of animals within the state. It spells out punishments, including a five-year jail term or an N1 million fine for anyone whose cattle graze outside a ranch.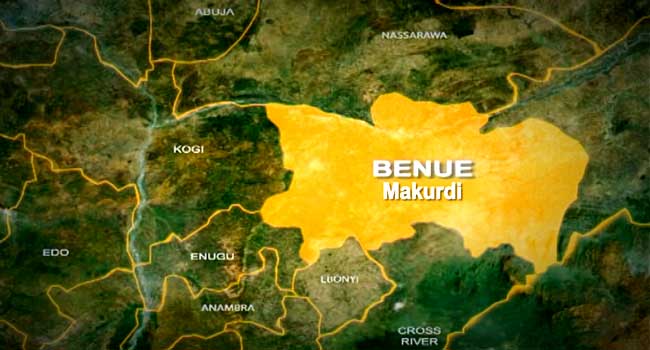 But rather than curb the violent attacks, the passing of the anti-open grazing law increased the wave of violent clashes in the state, including the attack on Guma and Logo which have recorded the highest number of attacks in the state.
In 2018 alone, criminal herdsmen reportedly carried out 82 attacks across the state, the highest of such violence in a single year, displacing hundreds of thousands of farmers such as Doose.
Struggle for survival
Before the attack, Doose and her husband were big-time farmers in Umenge. They had a vast expanse of land where they planted Rice, Maize and Yam.
Since 1976, Agriculture has remained the predominant occupation for the people of Benue State, with over 80 per cent of the state's population engaged in food crop production as small-scale farmers on rich arable land spanning over 300 kilometres.
Benue is one of the major contributors to food production and security in Nigeria, with women like Doose producing 80 per cent of food in the state. But sustained crises in the state have continued to impact its agricultural sector, with the food production ratio in the state decreasing by 45 per cent.
"We always harvested over 70 bags of rice, 10 bags of Maize and over 200 tubers of yam," she said. "We did not lack anything and always had enough to eat,". We were a happy family".
After the attack, everything changed. Now, she works on farmlands belonging to families living around the camp. Sometimes, she prepares heaps and ridges for planting. Sometimes, she helps in the planting and also weeds.
On a daily basis, she earns between N500 and N1000 which is hardly enough for her and her three children. Three years after the attack, she gave birth to a set of twins, In September 2021.
After their birth, work slowed down, forcing her to depend on neighbours and friends for food. But she hopes to resume and continue to work to fend for her family. She said her husband always travels in search of a job.
"I don't have any other option than to work, "she said.
When this reporter met Doose inside the Abagena camp, she was carrying Torngu and Torkuma, her twin sons. As one of them suckles her breast, she feeds the other with a meal she had received from one of her neighbours.
She is one of several women who have been displaced from their homes and are having to work on farms to earn a living. While some of them go in search of farms to work on, others search for lands where they can cultivate their own crops and sell after which they share the proceeds with the landowners. The food provided by the camp authority is hardly enough.
Money earned is hardly enough
As each day breaks inside the Abagena IDP camp, Uverashe Dena, 30 only thinks of how to feed her children. She routinely travels from the camp in Makurdi to other locations in search of farms to work on. Like Aodohemba,  she earns between N500 and N1000.
Her husband farms too. But the money they both earn is hardly enough to feed the children- seven of them.
Four years ago, the family had enough to eat and sell.
They had 1500 heaps of yam and over 100 ridges where they planted corn and other crops. But the narrative changed after Dena and her family fled their home in Torkula one of the villages in Guma local government after it was attacked by criminal herdsmen in late January 2018.
"We started hearing gunshots as we were about to retire to bed, "she said. The criminal herdsmen had made their way into our village and started shooting sporadically and destroying property".
While no casualty was recorded, Dena said several houses were completely razed by the criminals who also carted away foodstuffs. She and her family escaped without anything, except the clothes they had on them. All they had was burnt- their house. Their farm. Their crops.
"All through the night, we trekked through bushes and pathways and when we got to Makurdi the state capital, we found the camp and slept," We have been here since then".
Whenever she does not get a job to do, she borrows food from other women inside the camp at Abagena and gives them back when she gets money and buys foodstuffs.  Sometimes, she goes hungry to let her children eat.
From farm to IDP camp
Christiana Sharbee came to the Abagena IDP camp in January 2018 after her community, Asangaba in Guma was attacked by herdsmen. She and her husband and children were on their farm when they suddenly started hearing gunshots.
Quickly, they ended work and on their way back home, they saw people running and they ran with their children.
"I lost one of my brothers-in-law, Utaghe Sharbee," she said. "He stayed back after we left, thinking that the herdsmen will not come and that he will pack some of our clothes the next day and bring them to us. "As he was packing some clothes, they attacked and killed him at night".
She said Utaghe was helpful to the family before he was killed.
"Whenever we did not have food to eat, he always provided, I feel pained each time I remember that he is not here".
Before the attack, Christiana's husband, Stephen used to cut down trees for a living in addition to their farm work. He earned as much as 30,000 after each job. They lived well.
To survive and cater for her family, she searches for farms within the Abagena IDP camp where she escaped after the attack.
Work not always available
Although women inside the Abagena IDP camp survive by working on farms, Msulshima Kwaghtser, 35 said that it is not always easy to find places to work.
"Sometimes, I go a whole week without finding people to work for," she said. "There are many of us inside the camp who want to work and earn money. Sometimes, we have to travel outside the state in search of jobs".
Like other women, farming was all that Msulshima Kwaghtser, 35 and her family had to do. In 2018, when herdsmen struck her community in Guma LGA, she was on her farm.
As soon as they heard gunshots, she and her family ran, leaving everything behind. Their home, their farm and their property. They burnt her house and everything inside it.
"We trekked for two days before we got to the Abagena camp," Since then, life has been difficult for us,".  My husband travelled to Nasarawa state to get land he can farm on and earn money,".
With what money she earns, Kwaghtser goes to the market and buys Corn and makes soup for her seven children. This has become almost like a staple food for her and the children. Sometimes, she says they starve.
Way out?
Emmanuel Chiwetalu, a PhD student at Edinburgh University Divinity School said that finding a lasting solution for the decades of conflicts in Benue State would require efforts by community leaders and individuals across affected communities.
"The ordinary farmers have only little to do about these killings, "he said. "The councillors and local government chairmen, the communal leaders and the state government officials must do more to help".
He also said that although the federal government and national security agencies can help to manage the situation, the local leaders must recognise the immense power they have to prevent the lingering conflict.
According to him, qualitative research on communal conflict in Nigeria has shown that local leaders have collaborated in different parts of the country to consider potential sources of conflict between groups and successfully prevented violence in their community
"This kind of local peace work is part of the means through which peace and progress can be restored in Benue communities, he said. "Having a peaceful farmer-herder arrangement will also require the rejection of some of the suspicions and stereotypes that harm their relationship".