In Nigeria, many women suffer ailments resulting from the use of firewood and data from the World Health Organization estimates that over 98,000 of these women die annually as a result.  Some of these women-especially those who are into palm kernel processing-are aware of the implications. But with no support to adopt more energy-efficient methods, they risk their health to earn a living. Arinze Chijioke reports. 
Inside an open space roofed with corrugated zinc sheets in the Garki area of Enugu State, Southeast Nigeria, smoke constantly goes up and disappears into the horizon. Metal drum containers are holding water and Palm kernel Sludge, the residue obtained from oil palm mills after the extraction of oil from palm nuts.
Nwani Catherine stands with her hands firmly holding a long, wooden stick which she uses to stir the metal drum containers, one at a time. At intervals, she uses her drenched shirt to wipe the beads of sweat on her face.
The heat from the three-stoned open cooking fire is unbearable and leaves her wheezing badly from firewood smoke, tears welling up in her eyes. But she has to stir for hours to get oil from the Sludge which companies come to buy and further process into detergent, soap, perfume, cream and other products.
This has been her routine since 2017, two years after her husband died and left her with the burden of catering for their four children.
Before she was introduced to the business by a friend, Catherine sold foodstuffs inside Ogbete, one of Enugu's main markets. But it was not profitable. Sometimes, she made a profit of N200 after each day's sale.
"I felt I needed another business to be able to take care of my children, "she said.  It is what money I earn from here that I pay their fees and our rent".
Initially, when she started the business, she was buying the Palm Kernel sludge directly from artisanal and small-scale oil palm mills and processing it further to get other products. But with time, she could not afford to buy directly. Now, she works for a group of women who own the business.
Every day, at 6:30 am, Catherine leaves her house to ensure that she gets to the location before 7 am. Sometimes, she treks. Most of the time, she boards a bus. At the location, she separates the Sludge which often comes in different bags into 12 drums after which she sets fire to them and begins to stir.
"The Sludge is usually hard when poured into the drums, "she said. "I have to go round and stir each drum for hours to get the liquid content and also ensure that it does not burn".
At intervals, she ambles to the stream close to the location where she gets water used in the processing.  After processing, the oil stays at the top of the drum while palm kernel cake- another by-product stays at the bottom.
The next morning, she begins her day by scraping the drums for the Cake which can be used as feed for swine and also serves as manure routinely used by smallholder farmers. It is also used to replace up to 66 per cent of chemical fertilizers in palm plantations.
She and other women who are in the processing business arrange the cakes into different bags and help load them into vehicles, earning N50 per bag. For each drum processed, the women earn N250. That is N3000 for 12 drums and N1500 for six.
Whenever there is a scarcity of Palm kernels, the women go for two weeks and sometimes more without working and that affects their income. They leave the location between 5-6 pm daily.
Catherine often feels weakness in her bones and pain in her chest whenever she returns home after each day's work. The smoke from the fire disturbs her eyes. But she rarely takes medication.
"I don't want to get used to it and always spend my money on drugs, "she said.  "I have allowed my body to get used to the process. For my eyes, I buy Yeast and eat enough vegetables. I also drink soda water whenever it blocks my breathing".
Africa is hardest hit
The use of open fires and solid fuels for cooking remains one of the world's most pressing health and environmental problems, directly impacting nearly half of the world's population- more than 3 billion- and causing nearly four million premature deaths each year, according to the Global Alliance for Clean Cookstoves.
In Sub-Saharan Africa alone, some 950 million people- about 81 per cent of the population- are said to rely on wood and charcoal for cooking, a number which is estimated to grow to 1.67 billion by 2050.
Research also indicates that the highest death rates from cooking fuel pollution occur in poorer African countries, with smoke inhalation from indoor and outdoor cooking causing between 1.6 million and 3 million deaths of children in the continent yearly.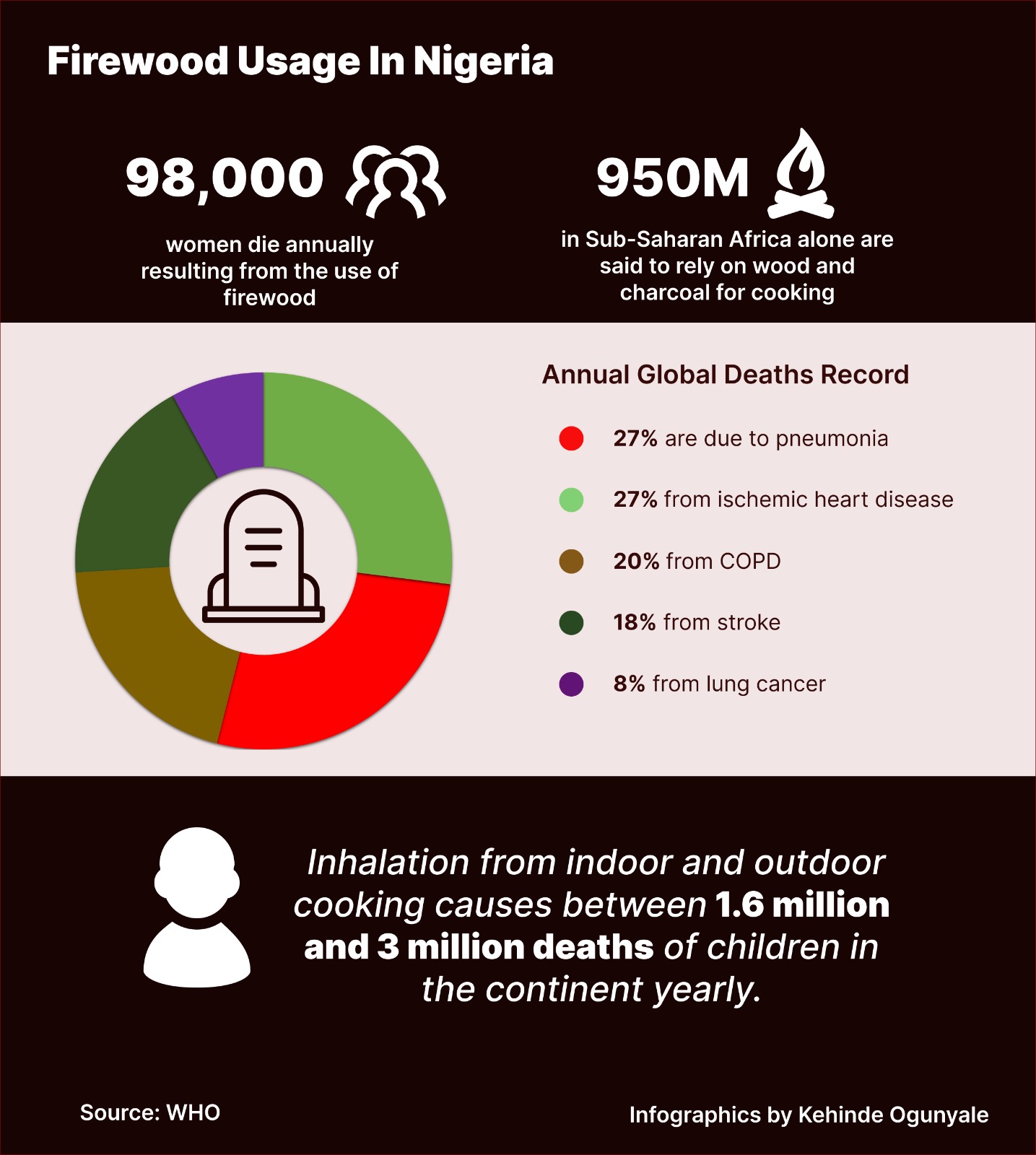 Among the health issues arising from smoke inhalation In developing countries, including Nigeria include respiratory infections, eye damage, heart and lung disease and lung cancer, cardiovascular diseases and bronchitis which are significant causes of death in both children under five and women.
Of the 4 million global deaths recorded annually, 27% are due to pneumonia, 18% from stroke, 27% from ischaemic heart disease, 20% from chronic obstructive pulmonary disease (COPD) and 8% are from lung cancer, according to data from WHO data.
Kelo Uchendu, Policy Lead of YOUNGO, the UN Framework Convention on climate change, (UNFCCC) Children and youth constituency, said that apart from being one of the drivers of death, especially in Africa, open fire cooking remains one of the major causes of unsustainable tree harvest and is responsible for about 20% of black carbon emission.
The training process
Before Duru started the business in 2020, she was trained for two months on how to pour the chaff into the drums and what quantity to ensure that it does not waste as you turn. She was also trained on how to add fire to the product and what quantity of water to add and how to stir.
"If you pour too much water, for instance, it becomes hard for you to stir, "she said. "Some people learn everything about the business in one month while some catch up in three months,".
When she resumed, she worked for one week and stopped because she could not bear the hit from the drums and the stress that comes with the processing. But she came back again, determined this time to work and earn money for herself and her family.
The mother of five had worked as a caregiver in a private nursery school in Enugu where she was earning a meagre N5000 as salary every month.  But It was hard enough to meet her needs.
"Sometimes, I was not paid my salary in full and sometimes, they often withheld it, "she recalled.  "And it always resulted in quarrels. "I could not save up or invest in anything".
But in her current job, she gets paid daily and earns more than three times her salary at her former school.  Depending on her strength, Duru earns between N1500 and N3000 daily. She also gets N500 as money for feeding daily.
"With the money I make, I am able to support my husband who is a commercial bus driver in taking care of the family, "she said.
Since she started the job, Duru has not fallen sick because she has become used to the business. She takes Sodar water because of the smoke she inhales Sometimes, I spend almost the entire day here.
Duru comes out here as early as 7 am to be able to meet up with her daily target. On arrival, she begins by scrapping the drums for Palm Kernel cake which she arranges in small bags.
Usually, when she returns home, exhausted, she lays down on a cement floor to be able to regain her strength. She said that several women had also stopped working after some time because they could not cope with the stress that comes with it.
Like Duru, Ngozi Godwin got into the processing business in 2020. Before then, she was into petty foodstuff trading inside Ogbete, Enugu's Main Market. But the money she makes was hardly enough for her to pay bills back home.
A mother of five, she also worked as a cleaner as a government officer. But her monthly salary of N20,000 was often delayed. She always transported herself to the office, spending the little she had.  Sometimes, before she gets paid, she spends everything on household needs.
"It was hard for me to save, "she said. "All of that frustrated me and I had to find an alternative, especially as someone who had children,". My sister who had been in the business for more than 20 years now introduced me to it.
She explained that although the processing business is stressful, it is more profitable and she can support her husband who is a commercial bus driver in taking care of the family. It also allows her more time to do other things for herself.
"I am often exhausted whenever I return home, but I must come the next day to work because I have to make money," Now, I can save from the N3000 I earn daily".
No efforts to invest in sustainable approaches
At the U.N. Climate Change Conference (COP26), African countries, including Nigeria renewed their commitment to transitioning from polluting cooking fuels. They were also determined in their call for an affordable energy transition.
However, Uchendu said that the Nigerian government often looks at the bigger picture without realistic timelines when talking about energy transition, and climate policies on strategies.
"The government is failing to understand the different small scale grass root innovations and how local women-especially those into Palm Kernel processing- can be supported with more sustainable approaches to business, thereby increasing their income, "he said. "Their activities are hardly recognised".
He noted that these women often resort to fuelwood at the expense of their health and the environment because they lack the funds to adopt more energy-efficient methods in their processing activities.
"Energy transition has to be a coordinated effort, from the bottom to the top and this means supporting women with cleaner and healthier alternatives which will cut down the time and resources used, that is lesser input and more output, "he said.  Private entities can also come in to invest in these women and boost productivity,".
Catherine and other women remain hopeful that more energy-efficient methods will be introduced to make their work a lot easier and less harmful to their health.